Netherlands Opportunities for Mechanical and Mechatronic Engineering Graduates
Are you looking for a bit of an adventure? Keen to gain some independence and live abroad? We have a number of graduate roles with manufacturing facilities in The Netherlands. Kick start your career and get hands on engineering experience in regulated production facilities, making you very attractive to Irish employers! (Must complete your 2 year commitment in The Netherlands)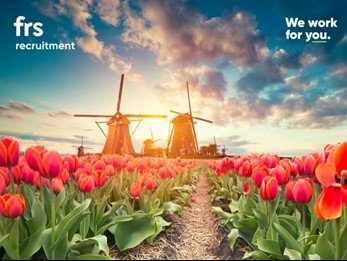 Interview Process
First interview phone/Skype with the second interview on-site with our clients in the Netherlands.
Relocation Assistance
Information regarding cost of living in the Netherlands along with information on the Dutch social security system, taxation system, health insurance and pension entitlements.
Support with finding suitable housing together with housing agencies.
Assistance with opening a bank account and organising your Health insurance.
Assistance with your application for the 30% tax ruling for non-Dutch employees.
1 ON 1 guidance from a dedicated consultant, to help you with all the arrangements for your first week of being in the Netherlands.
Integration Support Personal Development Program Training Per year.
Several personal meetings to discuss work and living in the Netherlands.
Planned social activities & nights out during the year with some of your fellow international & graduate engineers.
How to apply
Contact Mandy on mdevlin@frsrecruitment.com for more information or to hear about similar roles in this sector.

Mandy has been working as a successful recruitment consultant since 1994. Firstly in South Africa and upon immigration to Ireland, she has worked with FRS Recruitment, in Cork, since 2007. She specialises in the recruitment of technical, production, maintenance, engineering, logistics and technical sales positions. She has also successfully placed a number of HR candidates in senior roles. Mandy has built excellent relationships with many clients and candidates/job seekers in the Munster region, since joining FRS. Please make contact with Mandy on 086 410 6852 for a confidential chat or prompt and efficient service.
View Posts