How to Prepare a Winning CV
Your CV should represent you as a professional. It should emphasis your skill set, your experience, your product and industry knowledge, and your achievements. Here are my top tips on creating that winning CV, one that will stand out from all others, will engage the reader and will get you that interview!
Research has shown that employers and recruiters spend approximately 7-15 seconds on their first reading of a CV, so it has to make that very important initial impact.
Remember: your CV is a ticket to getting that interview
Contact Information
Your contact information should be the first thing on your CV. This can be centred at the top of the page or aligned down the left-hand side.
Remember: any mistakes with you contact number or email address will lead to you not being contacted for an interview - check and double check to avoid ruling yourself out from the very start.
Your contact information should include:
Name

Address

Contact number

Email address

Link to LinkedIn
Personal Profile
Your Personal Profile should be a short paragraph of about 5-8 lines, underneath your contact information. It should be written so as to provide the reader with an insight into you as a professional, drawing attention to your key attributes and competencies, skills and experiences with relevance to the role you are applying for. Personal Profiles are about selling your best points.
Employment History
This is the area of your CV where you outline your professional experience. It is imperative that this is accurate and factual. You should construct this section in reverse chronological order, beginning with your current role and working your way back. If there are gaps in your work history, be sure to include the reasons in this section, outlining them head-on rather than leaving them out an letting the employer wonder. Include exact dates for your past jobs (including month and year). Remember to be specific - if you have relevant product knowledge, industry knowledge and an existing client base which is relevant to the role you are applying for, outline it here as this will really appeal to the Hiring Manager or Recruiter.
This section includes
Company Name and Address

Dates of Employment

Job Title

Duties (use bullet points to document these duties – illustrating a parallel between your own skill set and experience and what the role requires)
Education Section
This should include college or university qualifications, any other qualifications or training you have undertaken, and, if part of the "essential requirements" for the role you're applying to, your 2nd level or school qualifications. As with the Employment section, start with the most recent qualification and work your way back, again using the bullet point format.
The Headings in this section should include:
Name

Address

Years attended (including Graduation Year)

Qualification
There is no need to list every subject, module or grade achieved. Your Education section should be succinct so as not to use up valuable space on your CV.
Hobbies and Interests
This section is often left out of CVs but, when used correctly, can make be just as impactful as the other sections. Your Hobbies and Interests can help to underpin your skills which are vital to the successful candidate. For example, demonstrating your participation (and influence) as part of a team might set you apart from other candidates who indicate that they have a preference for solitary hobbies. The section is unlikely to be a deal-breaker in isolation, but a well crafter Hobbies and Interests piece can supplement the rest of your CV and augment your other sections to give the overall impression that you are the best person for the job. Use it wisely!
References
Your references are referees or people who can testify to your character, your skill set, your experiences and your abilities. Usually, employers will seek references from another previous employer, although there may be exceptions to this rule.
Never include your references directly on your CV. You can indicate to on your CV that your references are "available on request". Ensure that you have sought out appropriate references if you are currently in the hunt for a new job, and clarify with them that they should expect a call from a prospective employer if you have gone to the reference check stage of the hiring process.
I hope you find this helpful in preparing your winning CV. If you have any questions and would like to contact me directly, you can email me at daniella@frsrecruitment.com
View our sample CV: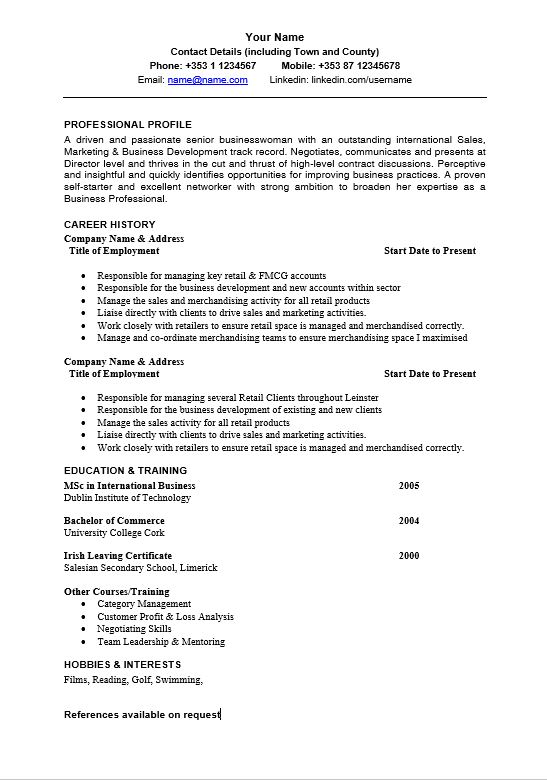 Watch the video here

A graduate from the University of Ulster, with a BA Honours Degree in Business Management and Hospitality and 15 + years industry experience in Recruitment, HR and Hospitality. Daniella specialises in the recruitment of sales professionals across a wide variety of industries including construction, financial services, FMCG and more across Dublin and Connaught. Daniella builds solid client relationships, is dedicated to providing 100% customer satisfaction, and is passionate for ensuring the right fit between the employer and candidate.
View Posts