Noel's First Month at FRS Recruitment
Joining FRS Recruitment during a pandemic
Joining a new company can be daunting at the best of times, but anyone onboarding during the COVID-19 pandemic will probably experience a whole new meaning to first-day jitters. How would I get to know my colleagues? I was conscious that, whilst Microsoft Meets interaction is great, adding a meeting into someone's calendar is a very intentional thing to do, whilst catching up with someone at the coffee machine and having a chat about the weekend is how you can get to know many people at the office.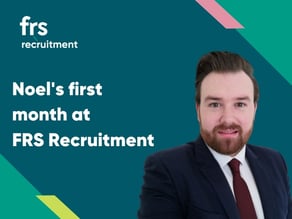 What I found during my first week, the scheduled one-to-one video meetings with each member of my team was a vital part of my onboarding. Not only did it provide training but it helped build a relationship with my colleagues.
There were a few of us on the induction day event remotely. We were on pretty much back-to-back calls during the day with some breaks in between to find out more about the other new starters. There was a lot to fit into the induction day but by the end of it, I felt I had an excellent grasp of FRS Recruitment and the company values. It was nice to feel connected and comfortable after the nerves settled. Now it was time to get stuck into my role and I couldn't wait.
The Welcome
My first couple of days in my role were so stimulating. Despite being 100% remote, I felt welcomed by my colleagues. I had regular catch-ups with members of my team, my training was thorough, in-depth, and clear. I felt that my voice was heard from the first day I started. For example, I pretty much immediately got stuck into working on resourcing candidates, having successfully provided trust in my ability to my team buddy. I gave my ideas and feedback and could feel that these were being considered and taken on board. As an experienced recruiter but new to the IT industry, this was something I felt was so important as imposter syndrome is very real! Despite experience or level, at FRS Recruitment there is a real sense of togetherness and non-hierarchical culture. I felt I could speak out and I would be listened to.
My colleagues were all aware of the weirdness of starting a job during the lockdown. I felt a huge lack of control and anxiety about the state of the world. My team made sure that I knew I had somewhere to turn to if I had any worries or troubles. Just having someone mention that it must be odd to start during the lockdown made me feel a sense of relief. They got it. They understood that it was going to be tricky. I felt that I wasn't alone, and FRS Recruitments inclusive culture meant that I felt a kind of security blanket of knowing that I was surrounded by people who care about others' mental health. This made it so much easier to reach out if I ever was struggling.
The People
My favourite aspect of working at FRS recruitment is the people. I feel that people are genuinely cared about and the culture of inclusivity is so important today. I feel that this is something that aligns with my views and values. Despite having never met them, I do feel I know my colleagues. I have built connections with others, even when working remotely. I do feel like a member of the FRS Recruitment Team.
Looking to join our team? Check out our Recruitment Consultant jobs HERE

Noel has a background in Healthcare and a passion for IT. He started life attending Technological University of Dublin studying Medical Physics and Bioengineering, followed by Ophthalmic dispensing through Association of British Dispensing Opticians in Cambridge.
View Posts