So you want to work in Recruitment?
So you want to work in Recruitment?
Talent acquisition, or Recruitment as its more broadly referred has finally established itself in the minds of the public as a career in itself, not simply a function carried out as a niche skill of HR.
While many recruiters of my generation fell into the market more by accident than design, its impressive to see that the strength and reputation of recruitment and recruitment agencies has created a new scenario where people are exiting other well established roles and sectors to move into recruitment. That being said, the challenges of moving into the sector are well known and success is not guaranteed without associated effort and support.

Recruitment is equal parts challenging and rewarding, every day is different. It can be very fast paced at times, sometimes decisions are completely out of our control, and we are constantly solving new and unique problems as they arise.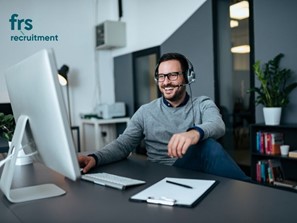 Let me tell you, Recruitment is not like any job you've ever had before.
It stitches together the worlds of sales, HR and service provision and carries the difficulties and nuances of each of those worlds as well.
The core focus of a recruiter can be described as follows:
Find Jobs.
Find suitable candidates.
Fill jobs, and repeat.
However, while this process may appear to be as simple as posting job adverts and matching applicants to an open role, the reality is very different.
Most people are bad at writing CV's, this is not something a person does every day. Most people do not know how to sell themselves and most people are not regularly involved in interviews so in general they are not skills that people develop, and therefore they area that a good recruitment consultant can focus and offer guidance and support. In fact it can be true to say that a good candidate often hides behind a bad CV.
The important thing we at FRS try to tell our junior recruiters, is that it's a job that really does get easier the longer you work at it, and the concept of the academy is to provide specialised training, support and mentoring that eases those first few months as you gain that knowledge of the recruitment process while at the same time building out your network of clients and candidates within the industry or sector that you will be working.
The Academy Program
Through myself as the dedicated course coordinator and working alongside mentors and subject matter experts, You will enjoy a schedule of daily training and mentoring sessions for the first 6-8 weeks while integrating with your selected team and division, with performance reviews at 3 and 6 months depending on the individual, up to a maximum of 12 months under the umbrella of the academy.
The course involves a combination of scheduled in-person and live video group sessions as well as access to pre-recorded specialist training, the aim of which is to support the junior recruiters by establishing a strong knowledge base of information around the systems, processes and procedures involved in recruitment, including legal and regulatory requirements and company best practice to ensure excellent candidate and client experience throughout.
We feel that the focus within the establishing period should be process quality over quantity and that metrics should be used to direct area's of support and training.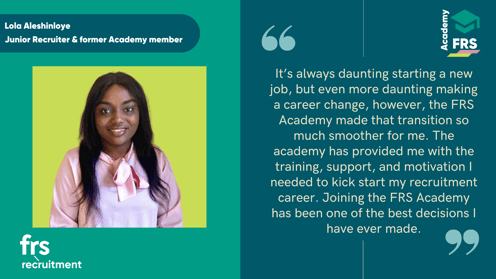 The joy that most people find as a recruiter is that it's a role that really benefits on personality, it allows you, and encourages you, to build your own brand. People interact and speak with other people. While we at FRS provide you with the tools and the training, you have considerable autonomy to be yourself, build your desk, build your client and candidate contacts, and become knows as an expert consultant in your area.
If you are wondering about a career in recruitment, or know someone looking for a change in direction, please reach out to the team at FRS and we'd be happy to speak with you. Contact us at info@frsrecruitment.com, or just add your CV to our talent pool here: https://www.frsrecruitment.com/job-seeker/submit-cv/, and in the meantime click here to have a look at life at FRS.