The Future of Talent: FRS Recruitment Conference 2023
FRS Recruitment returned to Croke Park for another insightful event on the ever-evolving landscape of Irish employment. This year's gathering brought together experts, thought leaders, and professionals to discuss critical topics, and it was a testament to Ireland's continued incredible economic growth over the last decade.
The event day was graciously hosted by Susan Hayes-Culleton, Managing Director of the Hayes Culleton Group. She not only facilitated engaging discussions but also encouraged audience participation through live interactive Mentimeter polls, while also contributing insightful questions during the panel discussions.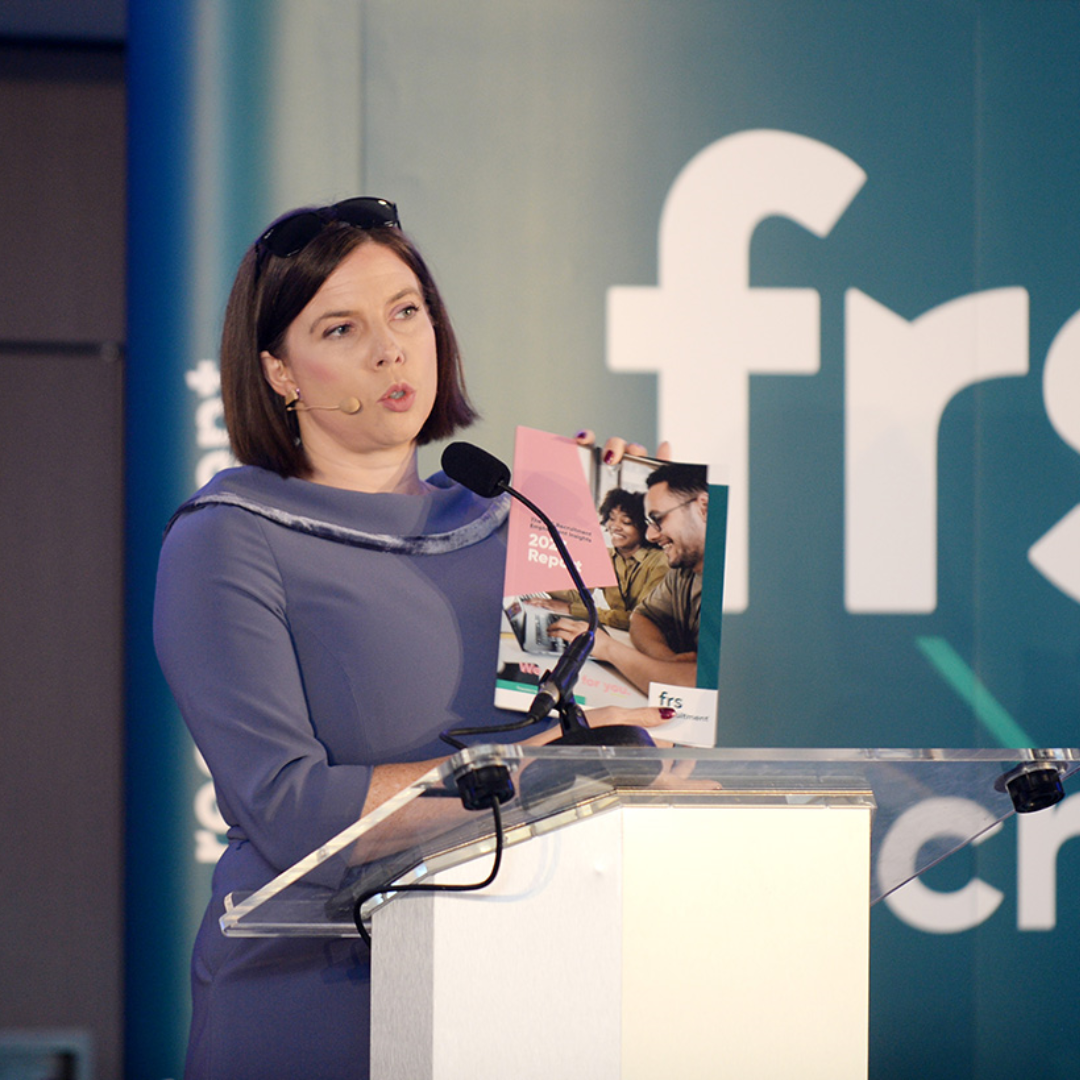 Stephen Kinsella, Professor of Economics and Head of Department at University of Limerick, opened the event by highlighting Ireland's astonishing economic progress. He emphasised that Ireland has become "eight times wealthier than it was 40 years ago"—a testament to the country's remarkable development.
Kinsella delved into the practical aspects of achieving sustainability by 2050. He outlined key factors, including:
Renewable Energy Dominance: Transitioning to renewable energy sources is essential to reduce our carbon footprint.
Electric Transportation: The adoption of electric vehicles plays a crucial role in reducing emissions.
Sustainable Buildings: Constructing eco-friendly and energy-efficient buildings is vital.
Carbon-Neutral Economy: Striving for a carbon-neutral economy is a necessity in the fight against climate change.
Preserving Natural Environment: Protecting our natural environment is essential for future generations.
Circular Economy: Embracing a circular economy model minimizes waste and resource consumption.
Community Engagement: Involving communities in sustainability efforts fosters collective responsibility.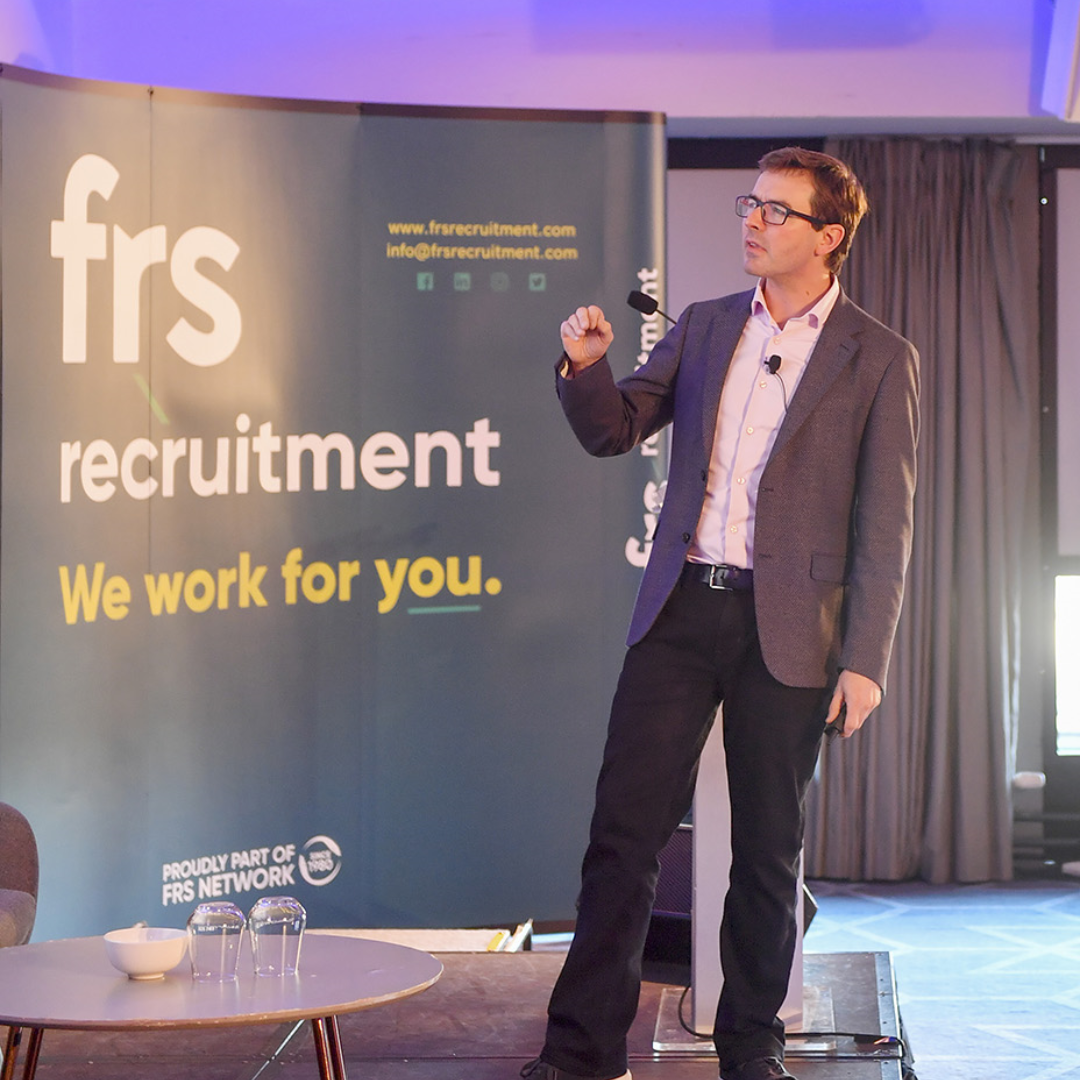 Kinsella challenged the audience to recognise the abundant energy, intelligence, and job opportunities available in the evolving economy while acknowledging that AI and automation would indeed reshape the job landscape.
Johnny Campbell, CEO and Co-Founder of socialtalent.com, demonstrated his wealth of experience and expertise by delving into the five major trends shaping the talent landscape, which were:
Skills: The importance of hiring based on skills rather than traditional qualifications.
Cutbacks: An increasing shortage of skilled professionals in various sectors.
Equity Legislation: The importance of promoting diversity and inclusion through legislation.
Flexibility: The need for flexible work arrangements in the modern workplace.
AI: The role of artificial intelligence in recruitment.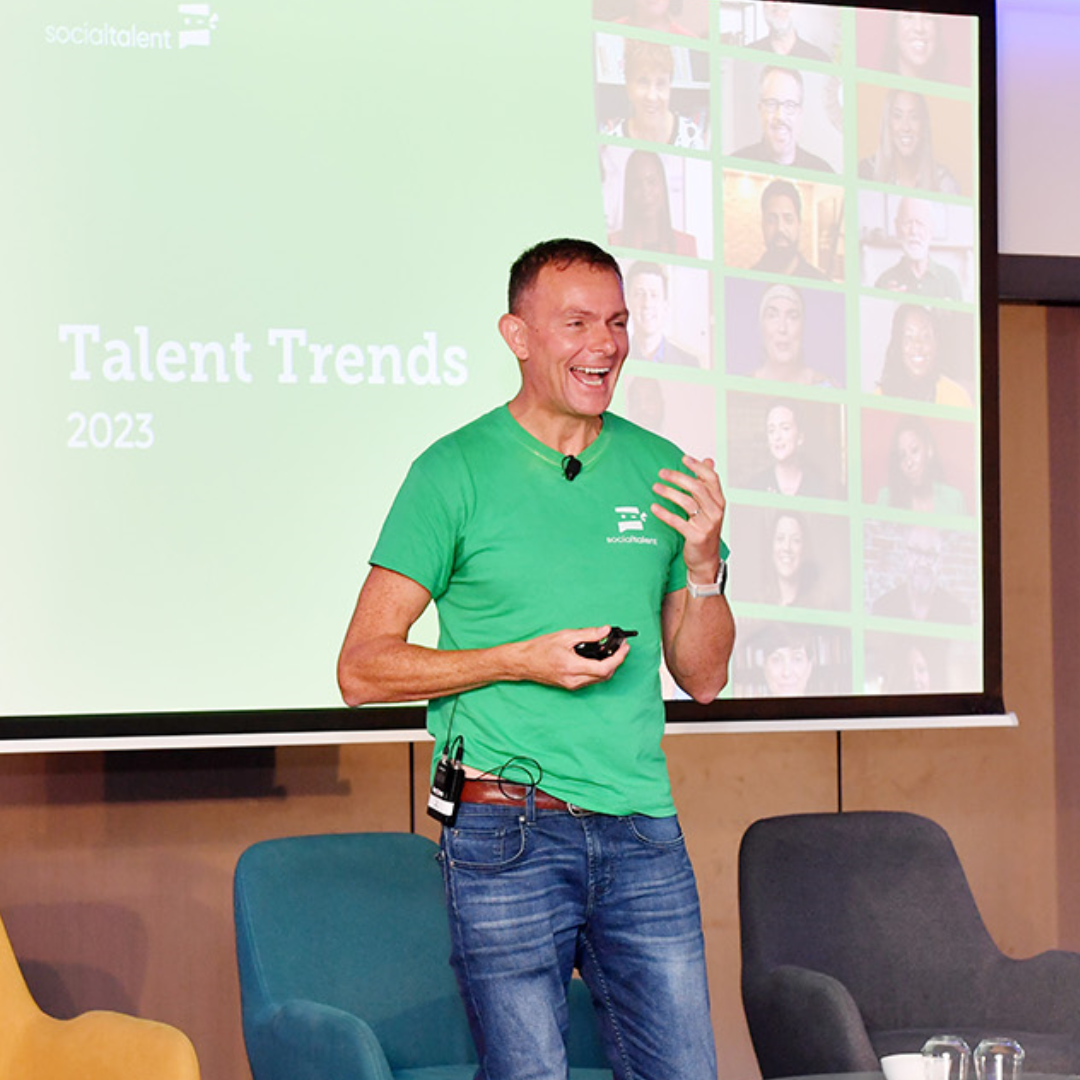 Campbell stressed the urgency of adapting to these trends, especially in a time when "the global talent shortage is at a 17-year high."
He provided actionable steps for implementing skills-first hiring, which can expand talent pools significantly, particularly benefiting underrepresented groups.
Kevin Green, Chief People Officer at First Bus (a division of FirstGroup plc), shared insights into the organisation's commitment to replacing 5500 vehicles with electric ones. He used this as an example to echo the challenges organisations face today, including economic volatility, environmental concerns, and the impact of technology.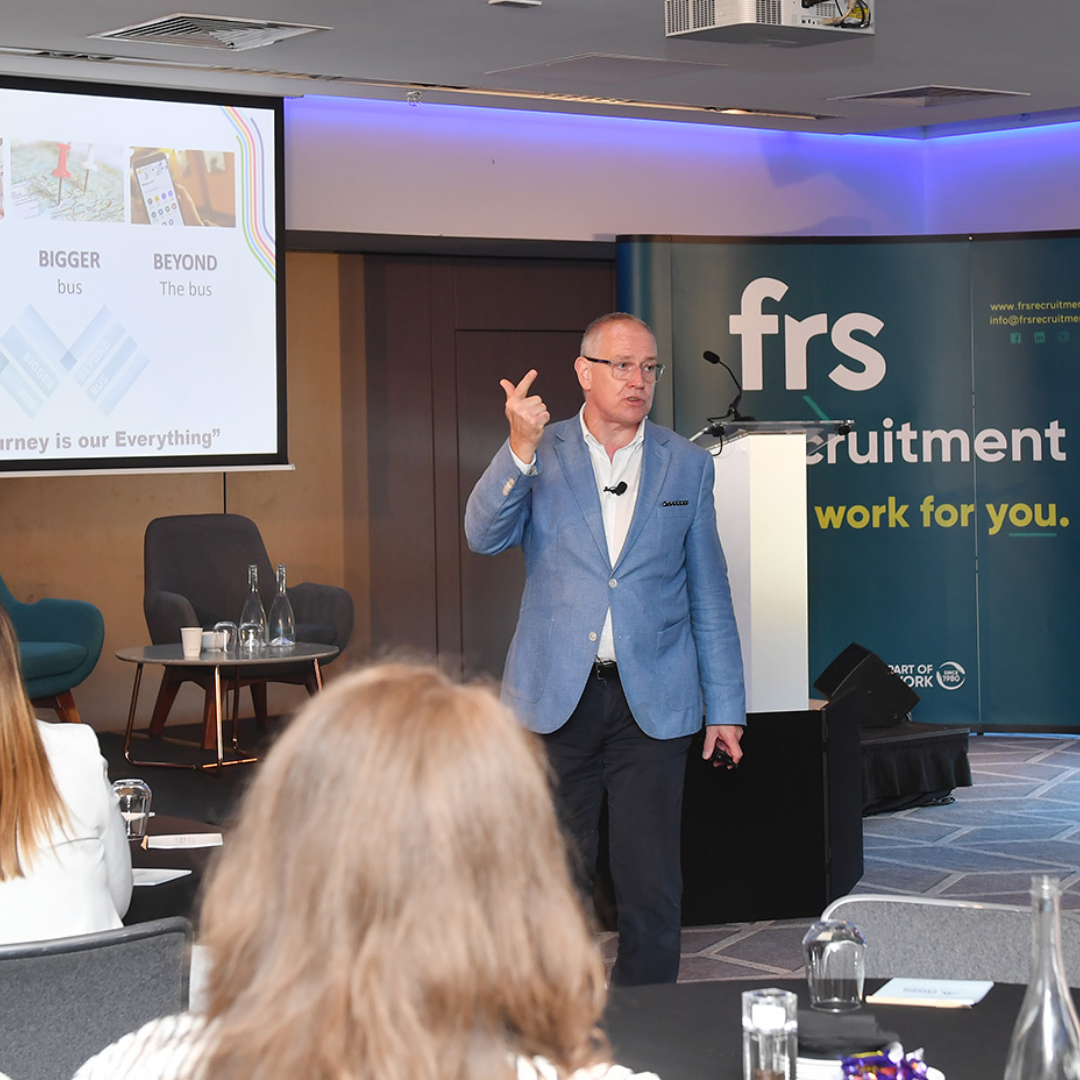 Green emphasised the importance of human capital, noting that "85% of economic value is driven by intangibles", underscoring the hugely significant role that people play. He discussed the need for organisations to "become more agile, adaptive, and responsive" to remain competitive.
During the panel discussion titled "A Culture of Excellence: Building a High-Performance Environment," Lynne McCormack, Laura Doyle, and Kevin Green shared key insights.
Laura Doyle (Chief People Officer at Distilled Media) stressed the importance of fostering "a culture of growth, feedback, and listening to employees". Distilled's commitment to employees' career growth and flexibility was highlighted, along with the significance of feedback channels through frequent engagement surveys.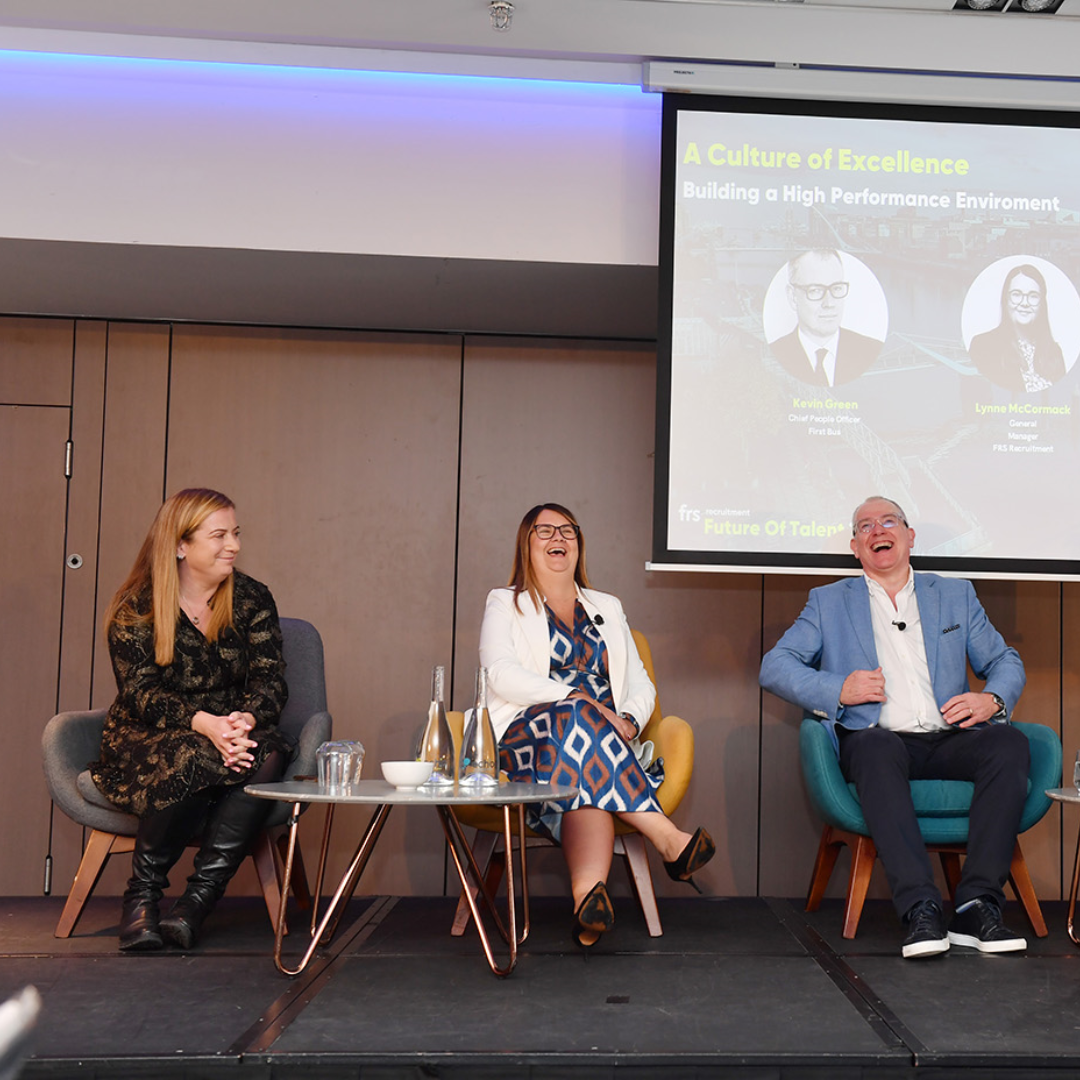 Doyle went on to explain how they "motivate middle management through regular communication and support", further strengthening connections between top-tier management and staff right throughout the business.
Lynne McCormack (General Manager at FRS Recruitment) discussed trends from the company's annual Employment Insights Report. Notable points included the 'work-life balance vs. remote work' debate, the allure of salary transparency, and the ongoing disconnect between employers' perceptions of remote work productivity and employee preferences.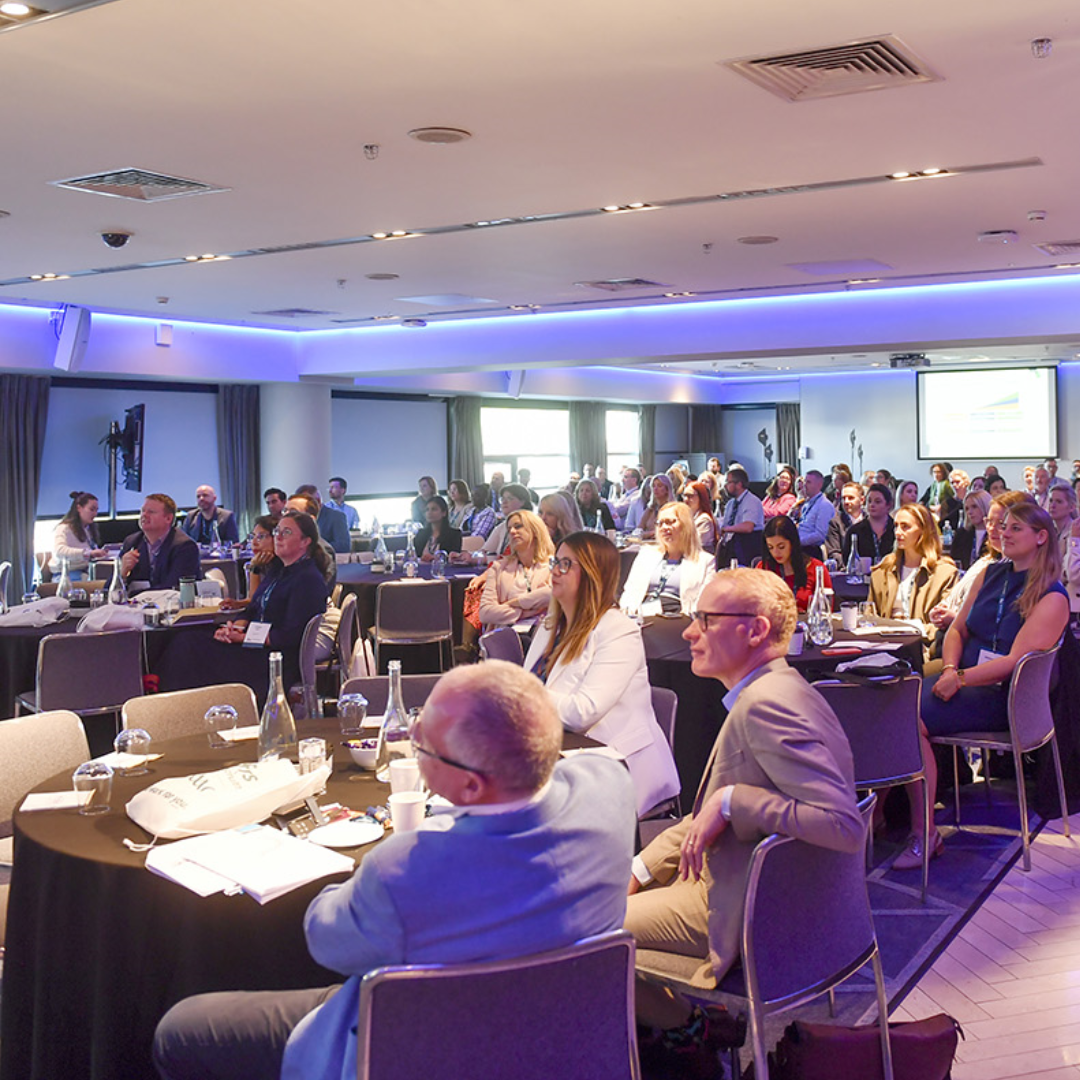 McCormack also discussed "the importance of creating collaborative hubs" where staff can come together when they need to, and used the example of FRS Recruitment's new flagship office in Portlaoise as an example.
In response to a question on concerns about AI's impact on jobs, McCormack noted varying levels of apprehension in different industries and areas. She also neatly reframed this within the context of concerns that are most immediate, such as the importance of salary transparency and clear job descriptions in attracting talent.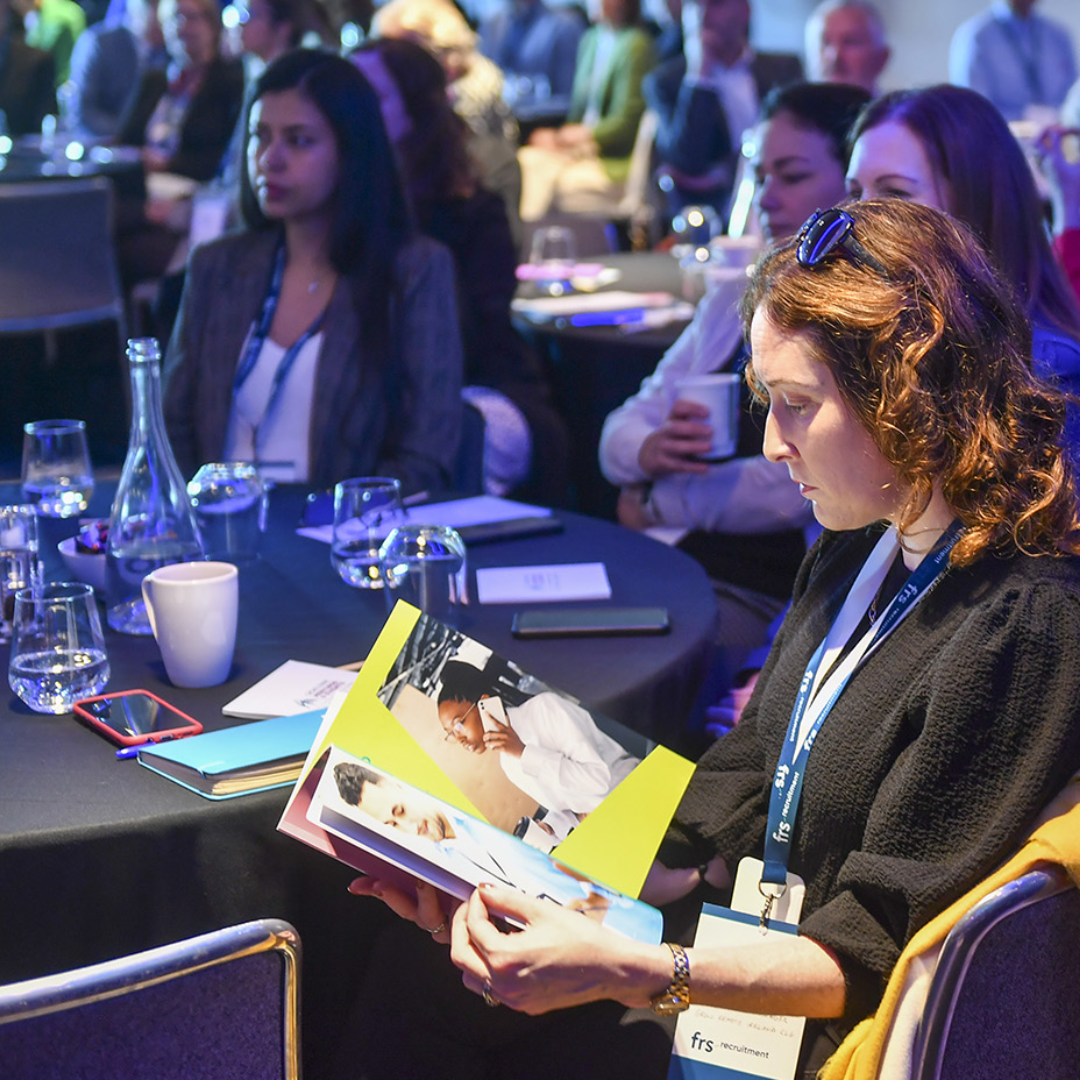 Kevin Green highlighted three key factors impacting employees at work: "Purpose, Autonomy, and Growth and Development." He emphasised how creating the right culture around these elements enhances talent retention. Green stressed the need to treat employees fairly and adapt to changing work environments, concluding that "organisations should prioritise retention and communicate changes early."
Colin Donnery (Group Chief Executive Officer FRS Network) and Hannah Tyrrell (Dublin Ladies football player, former Irish Women's rugby player, and mental health advocate) engaged in a discussion that touched on various aspects of high-performing teams, diversity, and inclusion.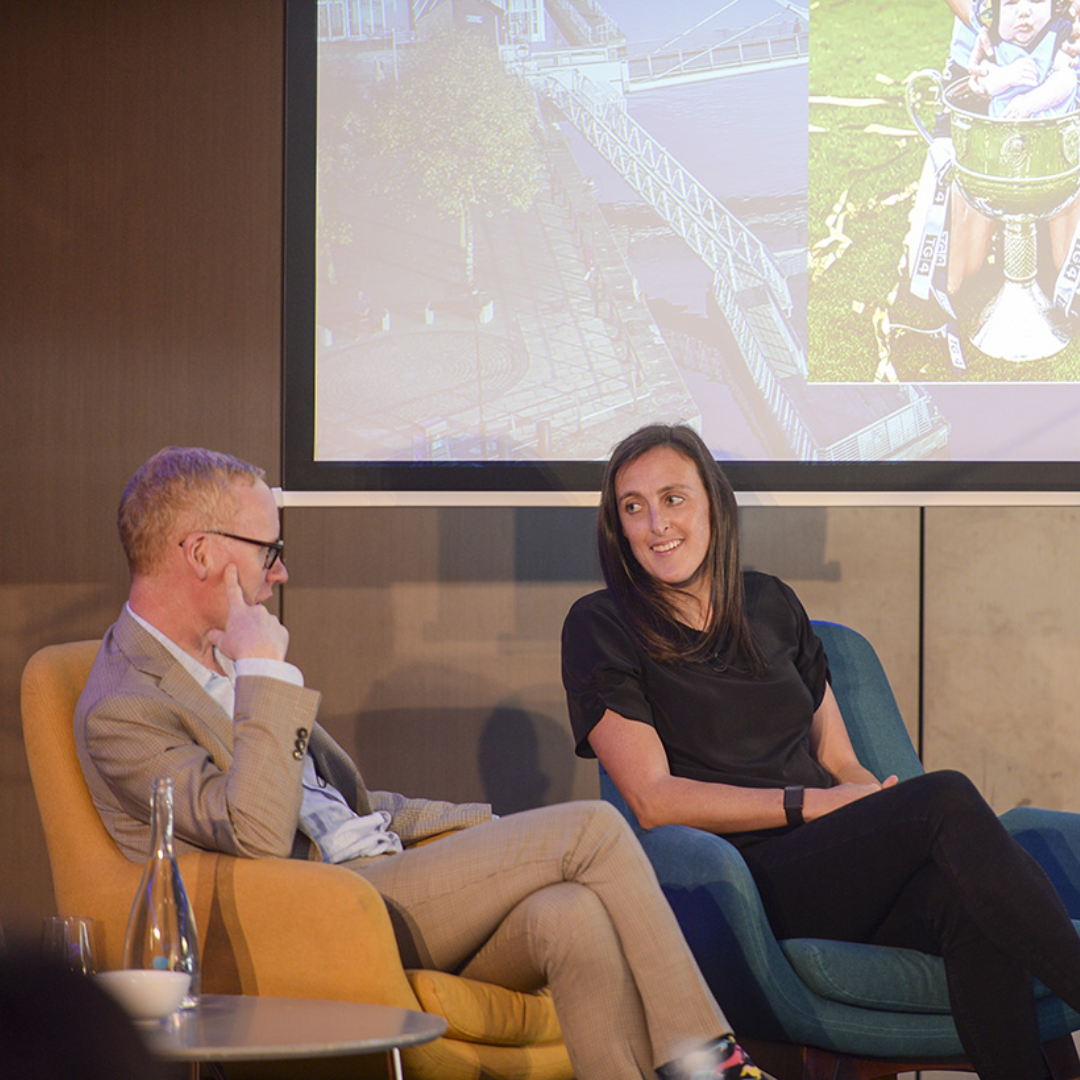 Tyrrell openly discussed her personal experiences and remarkable achievements in her illustrious sporting career. She highlighted how sports served as a pivotal point for a change in mindset during challenging periods. As a passionate advocate for enhanced mental health, Tyrrell's narrative resonated with the overarching theme of work-life balance that subtly threaded through various discussions during the event.
Discussing diversity and inclusion, Tyrrell's view was that "inclusion is the key word here; everyone needs to be involved". She concluded with an insight about "the responsibility of the individual managing their own role within the context of a broader team."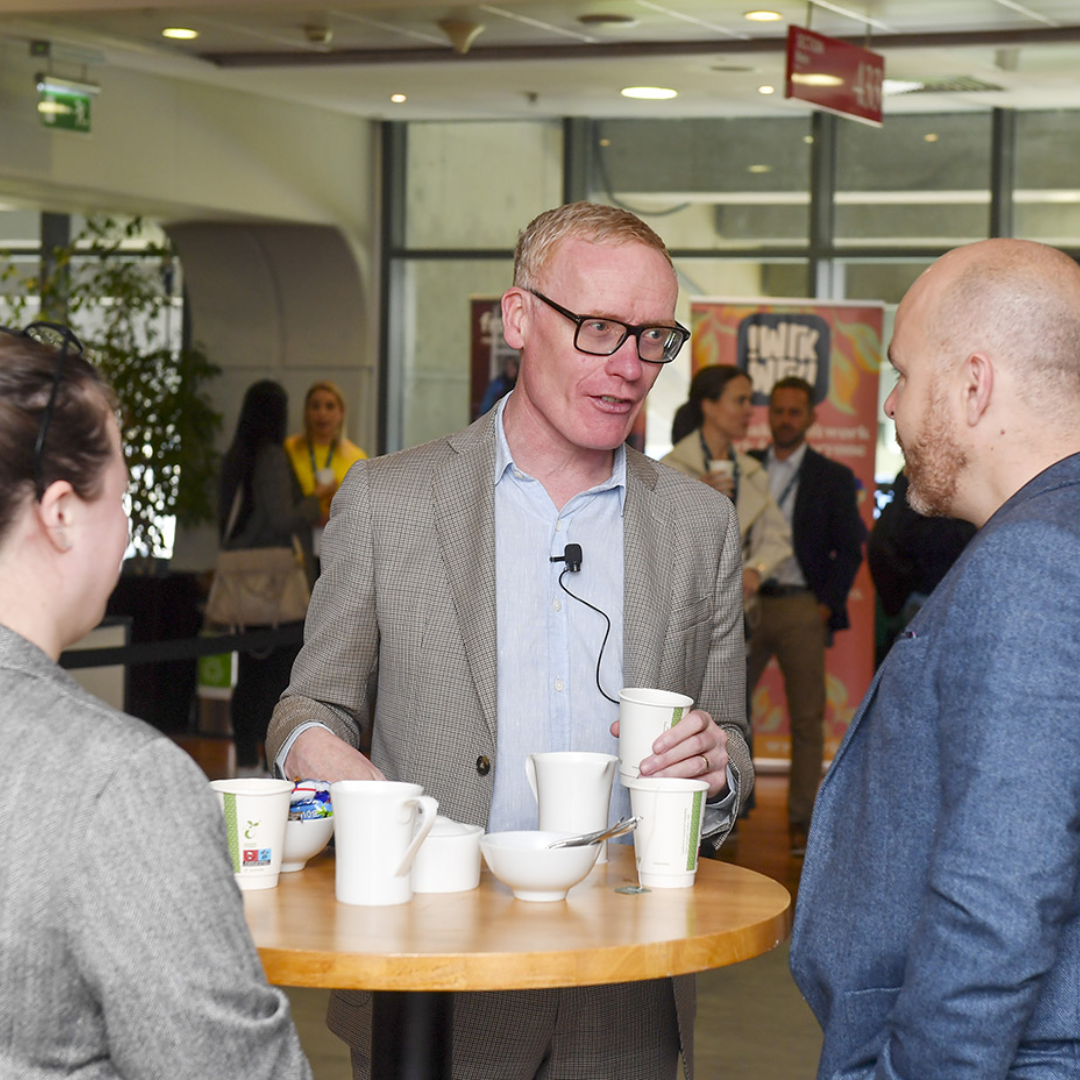 Colin Donnery discussed the importance of diversity and inclusion in fostering innovation and shared his insights on stakeholder management and organisational values. He shared his journey of adapting to a rural culture after relocating from Dublin to Roscrea, and attributed a prevailing "sense of quiet confidence" within the FRS Network to one of the organisation's key values: fairness. A mutual commitment to fairness underpins relationships within the world of recruitment.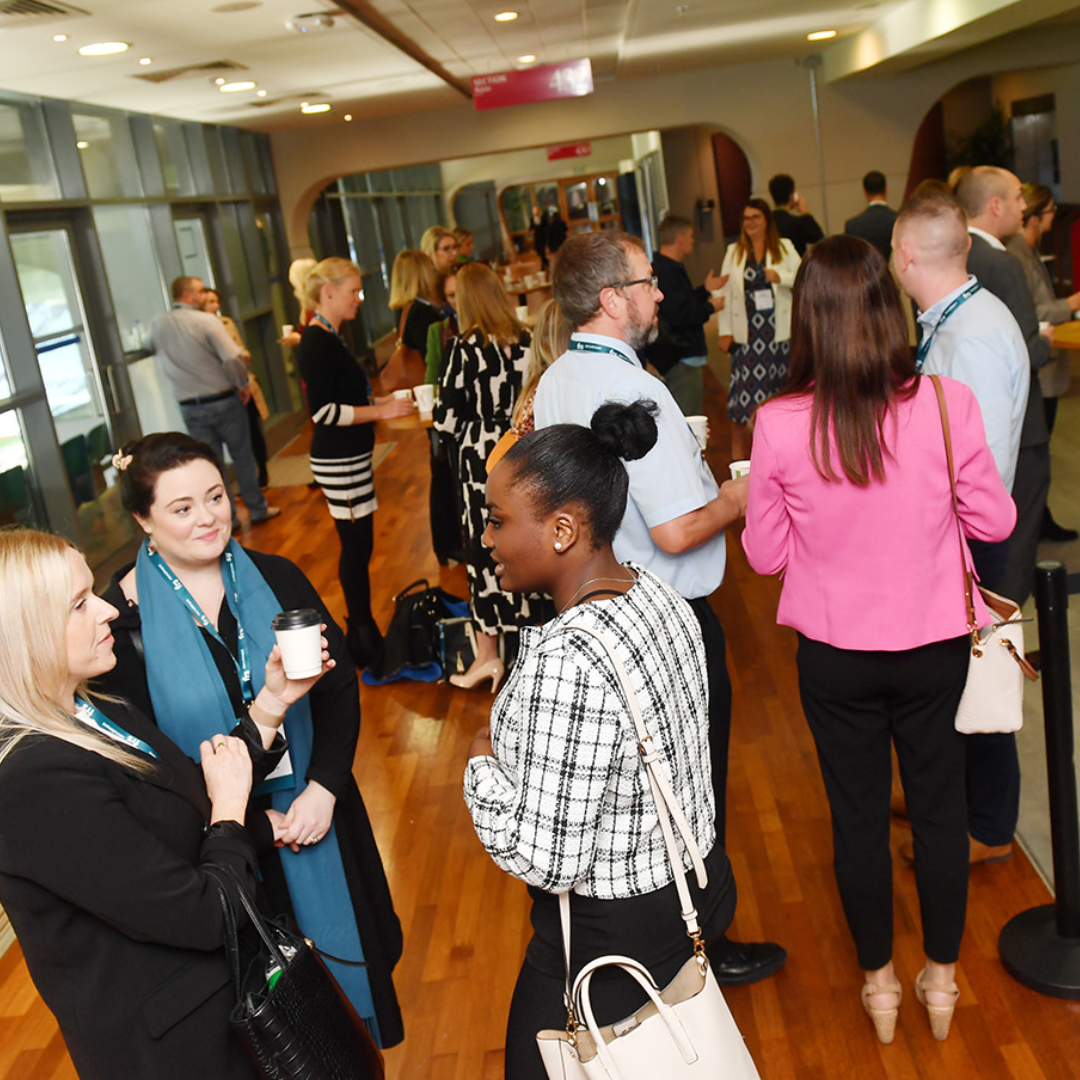 The Future of Talent conference provided valuable insights into the evolving world of work. It addressed crucial issues related to sustainability, talent trends, the impact of AI, and the importance of fostering high-performance cultures and diversity and inclusion in organisations. The event demonstrated Ireland's commitment to staying at the forefront of economic and social progress.
See our selection of photos from the event HERE